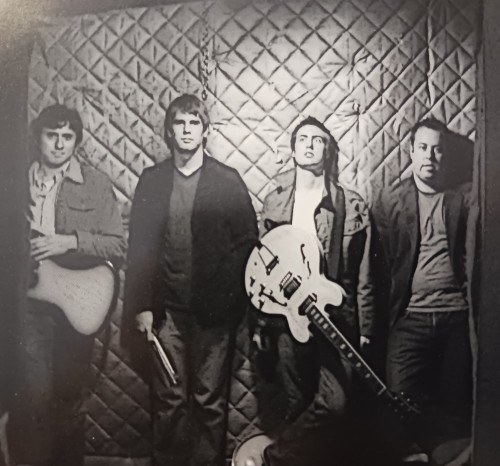 Mezzrow
Anthony Bezich

:

Guitar, Vocals

Fran Tagmire

:

Guitar

Mike Schraeger

:

Bass

Erik Sooy

:

Drums
Releases : 1 Total votes : 1 Reviews : 0
Added by
Davelovescountry
Last edited by
Davelovescountry
Additional notes
With buoyant vocal hooks, breezy guitars and two-fisted drums, Mezzrow breathes life into a stagnant Americana scene. This charming, infectiously energetic young band takes the Byrds' trademark jangle into British rock territory, a combination of geographic styles that hooks the listener from the first second and mercilessly refuses to stop being catchy.

I warn you now: Mezzrow doesn't just write songs. Rather, they're drugs. You will be addicted. This is a group that knows how to craft the perfect pop song, from the British Invasion-meets-country melodies of "Blue & Red" to the Eric Clapton-ish bluesy licks of "Too Many Situations." The band – consisting of vocalist/guitarist Anthony Bezich, guitarist Fran Tagmire, bassist Mike Schraeger, and drummer Erik Sooy – has intoxicating chemistry. Witness the dueling riffs on "Tear" and how they're propelled even further by the pounding percussion.

Mezzrow is what the Posies should've been but never were. From top to bottom, the material here is so strong that a major-label bidding war should be just around the corner. Seriously. Even when Mezzrow slows the tempo on "Showed Me the Ropes," the toe-tapping never stops.