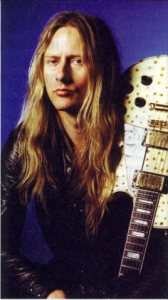 Jerry Cantrell
Country

United States

Born
March 18, 1966, Tacoma, Washington, United States

(age 56)

Member of
Alice in Chains
Ozzy Osbourne
Occupations
Musician, Singer, Songwriter
Instruments
Guitar, Vocals
Currently

Seattle, Washington, United States

Genres

Doom Metal

,

Alternative Metal

,

Alternative Rock

,

Grunge

Labels
Roadrunner Records
Jerry Cantrell

:

Vocals, Guitars

(1996-2002)

Robert Trujillo

:

Bass

(2000-2002)

Mike Bordin

:

Drums

(2000-2002)
Sean Kinney

:

Drums

(1996-1999)

Les Claypool

:

Bass

(1998)

Mike Inez

:

Bass

(1998)
Releases : 9 Total votes : 0 Reviews : 0
Added by

SludgeLeader
Jerry Cantrell Discography
Additional notes
Jerry Cantrell began doing solo work when Alice in Chains began encountering problems around 1996. With Alice in Chains' recent reunion tour, it is unlikely that Jerry will deliver a new solo album in the near future.

Contributed a rendition of the song "I've Seen All This World That I Care to See" on the various artists album "Twisted Willie: A Tribute to Willie Nelson" in 1996.

Chris DeGarmo made a guest appearance playing slide guitar in the track "Anger Rising" of the album "Degradation Trip". Prior to this, Chris also joined Jerry supporting him on his Boggy Depot tour.

Jerry played guitar on a few songs on Danzig's "Blackacidevil" album.