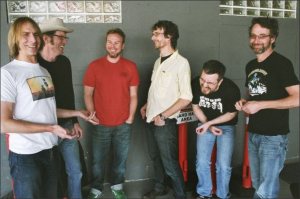 Green River
Country

United States

Formed
1984,

Seattle, Washington

Disbanded
2009
Genres

Grunge

Labels
Sub Pop Records
Mark Arm

:

Vocals

(1984-1988, 2008-2009)

Steve Turner

:

Guitar

(1984-1985, 2008-2009)

Alex Vincent

:

Drums

(1984-1988, 2008-2009)

Jeff Ament

:

Bass

(1984-1988, 2008-2009)

Stone Gossard

:

Guitar

(1984-1988, 2008-2009)

Bruce Fairweather

:

Guitar

(1985-1988, 2008-2009)
Releases : 5 Total votes : 0 Reviews : 0
Added by

SludgeLeader
Additional notes
Green River were formed in Seattle in 1984, taking their name from the area's notorious, then-recent serial killer (who wasn't brought to justice until around two decades later.) Lead vocalist/guitarist Mark Arm and guitarist Steve Turner had previously played together in the local hardcore bands Mr. Epp and the Limp Richerds, while drummer Alex Vincent came from Spluii Numa and bassist Jeff Ament from Deranged Diction.

Late in the year, second guitarist Stone Gossard - Turner's one-time bandmate in the Ducky Boys - came onboard, allowing Arm to concentrate exclusively on singing. Steve Turner left the band after `Come On Down` was released to be replaced by Bruce Fairweather.

This band also spawned other influential bands. Mark Arm and Steve Turner formed Mudhoney. Bruce, Stone, and Jeff went on to join Mother Love Bone. After the death of Andrew Wood, Mother Love Bone's lead singer, Stone and Jeff went on to form Pearl Jam.

Green River reunited in 2008 and has since played several live shows.