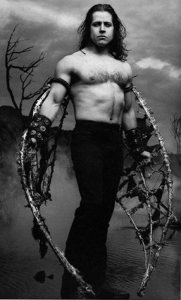 Glenn Danzig
Country

United States

Born
June 23, 1955, Lodi, New Jersey, United States

(age 66)

Member of
Danzig
Occupations
Musician, Singer, Songwriter, Producer, Author
Instruments
Vocals, Bass, Guitar, Drums, Keyboards, Harmonica
Currently

Lodi, New Jersey, United States

Genres

Neo-Classical

Labels
Evilive
Glenn Danzig

:

Synths

(1992, 2006-?)
Releases : 2 Total votes : 0 Reviews : 0
Added by

SludgeLeader
Album title
Lyrics
Type
Released
Rating
Votes
Reviews

Black Aria

(1992)

Studio

1992

-
0
0

Black Aria II

(2006)

Studio

2006-10-17

-
0
0
Additional notes
Born Glenn Allen Anzalone, Danzig spent his teens fronting several cover bands before forming The Misfits in 1977. Glenn and bassist Jerry Only remained the band's only constant members during their run from 1977 through 1983. Glenn was the band's creative core, writing the songs, creating their artwork, and running the band's record label, Plan 9, while Jerry provided most of the financial backing. After the Misfits' split, Danzig formed Samhain with drummer-turned-bassist Eerie Von (formerly of Rosemary's Babies). In 1987, Samhain morphed into Danzig, which has remained Glenn's primary focus.

In 1981, Glenn released his first solo record, a 7" called "Who Killed Marilyn?", which contained 2 songs that had traditionally been performed by the Misfits. Glenn peformed all the instrumentation on these songs, because he could not get the other Misfits to agree to do it as a Misfits project, either (depending on who is telling the story) because they were too lazy or they thought the songs were too old (both songs appeared in demo form in 1979).

In 1992, Glenn released his first solo LP, "Black Aria" on Plan 9. The album was instrumental and focused mostly on synthesized music with a classical and gothic bend. "Black Aria II" was released in 2006.

In the late 1980s, Jerry Only sued Glenn over control of the Misfits' name and catalog after Glenn had released a couple compilations ("Legacy Of Brutality" and "The Misfits") without notifying or paying royalties to Jerry and, in many cases, removing guitar and bass parts from the original recordings and replacing them with his own and, in other cases, substituting versions of older songs with versions recorded by Glenn and Eerie Von after the Misfits' break up. The case was settled in 1995 with Glenn retaining all songwriting and publishing rights to the catalog while Jerry gained control of the name and the ablity to launch his own version of the band. As a result of the lawsuit, Plan 9 was dissolved.

In 1996, Glenn formed his own label, Evilive, which he uses to license out his current releases to other labels for distribution.

Glenn made an appearance as himself in the Cartoon Network show "Aqua Teen Hunger Force" in the episode "Cybernetic Ghost Of Christmas Past From The Future" in 2002. He also had a small role in the 1998 movie "The Prophecy II". He was offered an audition for the part of Wolverine in the first "X-Men" movie but turned it down because of scheduling conflicts.

Guest for:
Son of Sam
Metallica (live)


Recorded "Father's Grave" with Melissa auf der Maur, his first ever, and so far only, duet.

Glenn's compositions have been covered by Metallica, Edge of Sanity, Behemoth and AFI, among others.

A long-time comic book fan and collector, Glenn also runs Verotik Comics.