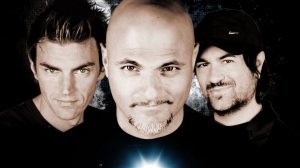 Eiffel 65
Jeffrey Jey

:

Vocals, Producer

Maury Lobina

:

Producer, Keyboards

Gabry Ponte

:

DJ, Producer
Releases : 3 Total votes : 1 Reviews : 0
Added by

SludgeLeader
Album title
Lyrics
Type
Released
Rating
Votes
Reviews

Europop

(1999)

Studio

1999-11-22

95
1
0

Contact!

(2001)

Studio

2001-07-24

-
0
0

Eiffel 65

(2003)

Studio

2003-05-28

-
0
0
Additional notes
Eiffel 65 is an Italian electronic/eurodance 3-piece group, formed in the late 90's and best known for their international hit "Blue (Da Ba Dee)". Their other hit singles include "Move Your Body" and "Too Much of Heaven" and "Lucky In My Life" were also successful. The name "Eiffel" was chosen randomly by a computer program and the "65" was scribbled onto their name on a demo by mistake; it was actually part of a phone number.

Eiffel 65 achieved rare success in the US. Their debut single became a top 10 hit and their album a top 5 placing and sold over 2 million units. No other Italian pop or dance group before or since has ever achieved such sales in the US.

In June 2006, it was announced that Eiffel 65's new name would be Bloom 06.

Now in 2010 the guys start a return as Eiffel 65.