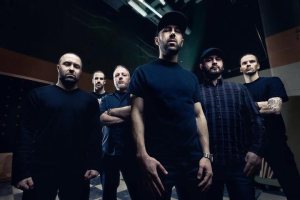 Despised Icon
Sebastien Piché

:

Bass

(2002-2008, 2014-)

Alex Pelletier

:

Drums, Percussion

(2002-2010, 2014-)

Alexandre Erian

:

Drums, Percussion

(2002-2003)

, Vocals

(2002-2010, 2014-)

Éric Jarrin

:

Guitars

(2002-2010, 2014-)

Steve Marois

:

Vocals

(2002-2010, 2014-)

Ben Landreville

:

Guitars

(2009-2010, 2014-)
Yannick St. Amand

:

Guitars

(2002-2006)

Marie-Hélène Landry

:

Vocals

(2002-2003)

Alan Glassman

:

Guitars

(2006-2008)

Max Lavelle

:

Bass

(2008-2010)
Releases : 7 Total votes : 0 Reviews : 0
Added by

SludgeLeader
Despised Icon Discography
Additional notes
Despised Icon's last gig was on December 5, 2010 in Montreal. Reformed in 2014 to play a line of reunion concerts across Europe and North America.

Despised Icon and Ion Dissonance have extremely close ties. For instance, Apocaliptic Script (featuring bassist Xavier St. Laurent and guitarist Sebastien Chaput) and Deuterium (featuring Antoine Lussier and Alex Pelletier) both share ID and DI members. Alexandre Erian filled in for Gabriel McCaughry (his roommate and designer of Desipsed Icon album artworks and several t-shirts) after he quit Ion Dissonance. When Steve Marois was ill, Kevin McCaughey filled in for approx 30 Despised Icon shows. Kevin McCaughey is now the lead singer for Ion Dissonance. Yannick and Alex E also had a band together with Antoine Lussier (guitarist for Ion Dissonance). Antoine Lussier (Ion Dissonance guitarist) and Alex Pelletier (Despised Icon dummer) are also cousins.

To further the complexity, Yannick St. Amand produces and masters for bands such as Ion Dissonance, Neuraxis, Beneath the Massacre and Despised Icon themselves.