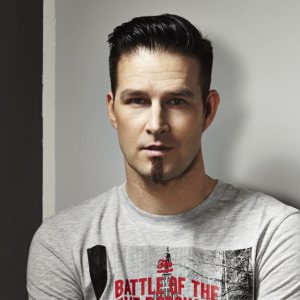 Darude
a.k.a.
Ville Virtanen, Ville Henrik Virtanen, Daudelkie, DRD
Country

Finland

Born
July 17, 1975, Turku, Finland

(age 47)

Occupations
Record Producer, DJ
Instruments
Turntables
Genres

Trance

Labels
EnMass, Warner Music
Ville Virtanen

:

Turntables

(1997-)
Releases : 13 Total votes : 0 Reviews : 0
Added by

SludgeLeader
Additional notes
Owner of the label EnMass Music.

His career in music started back in school when he used his PC to wile away his hours making happy hardcore tunes, however the limits of the PC [and happy hardcore] soon started to frustrate Ville and he moved onto creating sounds in the studio.

At a pre-party at his friend's house, Ville played "Rude Boy" by Swedish singer Leila K several times in a row which lead to his friends calling him 'Rude Boy', which he started using as his nickname online and when making music. 'Rudeboy' was shortened 'The Rude' and finally 'Da Rude', which was further combined 'Darude' for the logo when the first single 'Sandstorm' was released.

Unlike many other dance music producers, Darude doesn't have a DJ background, though he DJs regularly these days. Before he started producing music, he was really into listening to music and going clubbing and that's where his "education" and wide taste in music comes from. His musical career took off, when he gave Finnish producer Jaakko Salovaara (JS16) a demo CD with 'Sandstorm' on it. Jaakko signed Darude up to 16 Inch Records. The single 'Sandstorm' was the first release on the label and jumped directly to Nr.1 in the dance chart and staying in the charts for 16 weeks. 'Sandstorm' has now sold platinum in many countries and was just RIAA certified 'Gold' for 500.000 downloads in USA.

In 2004 in addition to his live performances, Darude started focusing on touring as a DJ. As a DJ his style is a mix of progressive & uplifting trance, but he also plays tech, breaks and house tracks with even the occasional heavy metal samples, which mirrors his production style as well.