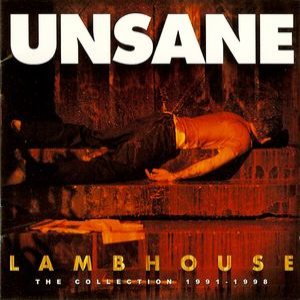 Lambhouse: the Collection (1991-1998)
Reviews : 0
Comments : 0
Total votes : 0
Rating : -
Have : 0
Want : 0
Added by

SludgeLeader
Lambhouse: the Collection (1991-1998) Information
Title
Length
Rating
Votes
Disc 1 (CD)
1.

Over Me

2:56
-
0
2.

Committed

2:42
-
0
3.

Wait to Lose

3:03
-
0
4.

Sick

2:35
-
0
5.

Hazmat

3:07
-
0
6.

Lead

3:17
-
0
7.

Empty Cartridge

2:13
-
0
8.

Blew

3:29
-
0
9.

Can't See

2:21
-
0
10.

Out

3:10
-
0
11.

Alleged

3:02
-
0
12.

Scrape

3:11
-
0
13.

Broke

1:56
-
0
14.

Straight

4:04
-
0
15.

Body Bomb

3:44
-
0
16.

My Right

3:59
-
0
17.

Streetsweeper

2:59
-
0
18.

Urge to Kill

3:50
-
0
19.

This Town

2:40
-
0
20.

Vandal X

1:45
-
0
21.

Bath

2:54
-
0
22.

Organ Donor

2:10
-
0
23.

Cracked Up

2:59
-
0
24.

Exterminator

5:09
-
0
Disc 2 (DVD)
1.

Sick

-
0
2.

Scrape

-
0
3.

Alleged

-
0
4.

Body Bomb

-
0
5.

Sick

-
0
6.

Over Me

-
0
7.

Committed

-
0
8.

Lead

-
0
9.

Wait to Lose

-
0
10.

Can't See

-
0
11.

Scrape

-
0
12.

Alleged

-
0
13.

Empty Cartridge

-
0
14.

Straight

-
0
15.

Blew

-
0
17.

Test My Faith

-
0
18.

Trench

-
0
19.

Maggot

-
0
20.

Cut

-
0
21.

Broke

-
0
22.

H.L.L.

-
0
23.

Vandal-X

-
0
Additional notes
The CD:-

Tracks CD-1 to CD-6 taken from Occupational Hazard
Tracks CD-7 to CD-12 taken from Scattered, Smothered & Covered
Tracks CD-13 to CD-15 taken from Total Destruction
Tracks CD-16 to CD-20 taken from Singles 89-92
Tracks CD-21 to CD-24 taken from Unsane

The DVD:-

Tracks DVD-1 to DVD-4 are music videos.
Tracks DVD-5 to DVD-13 recorded live at Northsix, Brooklyn, NY, 2003.
Tracks DVD-14 to DVD-17 recorded live at CBGB's, New York, NY, 1996.
Tracks DVD-18 to DVD-19 recorded live at Golden West, Albuquerque, NM, 1994.
Tracks DVD-20 to DVD-23 recorded live at Sudsy Malone's, Cincinnati, OH, 1992.

Mastered at Visceral Sound.