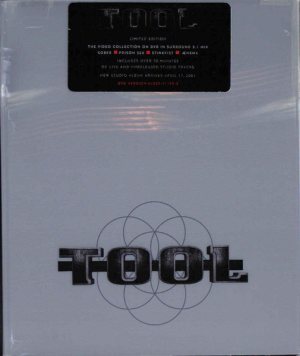 Salival
Reviews : 0
Comments : 0
Total votes : 0
Rating : -
Have : 0
Want : 0
Added by

Borisman
Title
Length
Rating
Votes
Disc 1 (DVD)
1.

Ænema

6:39
-
0
2.

Stinkfist

5:09
-
0
3.

Prison Sex

4:56
-
0
4.

Sober

5:05
-
0
5.

Hush

2:48
-
0
Disc 2 (CD)
1.

Third Eye (live)

14:05
-
0
2.

Part of Me (live)

3:32
-
0
3.

Pushit (live)

13:57
-
0
4.

Message to Harry Manback II

1:14
-
0
5.

You Lied (live)

9:17
-
0
6.

Merkaba (live)

9:49
-
0
7.

No Quarter

11:12
-
0
8.

LAMC / Maynard's Dick

10:54
-
0
Production staff / artist
Mackie Osborne

:

Design, Layout

Adam Jones

:

Art Direction
Additional notes
Studio Tracks Recorded At
The Lodge, Hollywood, California
Ocean Way, Hollywood, California

Live Songs Recorded At
Salt Lake City, UT
Portland, OR
San Diego, CA
Denver, CO

Mixed at Larrabee Sound North, North Hollywood, California

Mastered at Oasis, Studio City, California

Original pressing with typographical errors.
Subsequent pressings corrected the errors.

Errors:
• Paul D'Amour is spelled either Paul Damour or Paul D'Mour.
• Aloke Dutta is spelled Aloke Dutto
• "Stinkfist" is spelled "Stink Fist".
• "Message To Harry Manback II" is spelled with Mess&ltb&gte&lt/b&gtge.
• Tracks 5 and 6 on the CD are switched around on in the liner notes (they are correct in the list below).
• King Buzzo is incorrectly credited as performing on "No Quarter".

Track 8b on the CD is a hidden track that follows after 25 seconds of silence and is not listed in the liner notes.
Track DVD-5 is not listed on the artwork.
Album title
Type
Released
Rating
Votes
Reviews

Undertow

(1993)

Studio

1993

-
0
0

Ænima

(1996)

Studio

1996-10

-
0
0

Lateralus

(2001)

Studio

2001-05-15

-
0
0

10,000 Days

(2006)

Studio

2006-05-02

-
0
0

Fear Inoculum

(2019)

Studio

2019-08-30

-
0
0