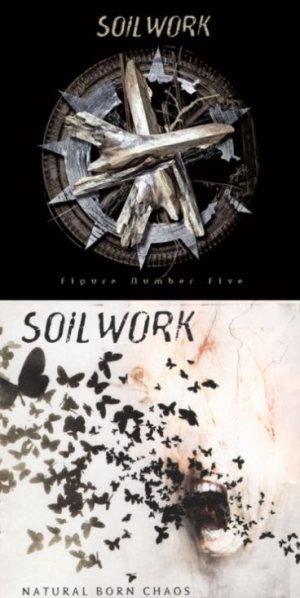 Figure Number Five / Natural Born Chaos
Reviews : 0
Comments : 0
Total votes : 0
Rating : -
Have : 0
Want : 0
Added by

SludgeLeader
Figure Number Five / Natural Born Chaos Information
Title
Length
Rating
Votes
Disc 1
1.

Rejection Role

3:35
-
0
2.

Overload

3:44
-
0
3.

Figure Number Five

3:12
-
0
4.

Strangler

3:48
-
0
5.

Light the Torch

3:41
-
0
6.

Departure Plan

4:24
-
0
7.

Cranking the Sirens

3:26
-
0
8.

Brickwalker

3:45
-
0
9.

The Mindmaker

3:32
-
0
10.

Distortion Sleep

3:46
-
0
11.

Downfall 24

3:55
-
0
Disc 2
1.

Follow the Hollow

4:02
-
0
2.

As We Speak

3:43
-
0
3.

The Flameout

4:18
-
0
4.

Natural Born Chaos

4:08
-
0
5.

Mindfields

3:29
-
0
6.

The Bringer

4:43
-
0
7.

Black Star Deceiver

4:42
-
0
8.

Mercury Shadow

3:49
-
0
9.

No More Angels

4:01
-
0
10.

Soilworker's Song of the Damned

5:03
-
0
Production staff / artist
Patrick J. Sten

:

Mixing

Carlos Del Olmo Holmberg

:

Artwork

Fredrik Nordström

:

Mixing

Olle Carlsson

:

Photography
Additional notes
Disc 1:
Guitars and keyboards recorded in December and January, 2003 at Queenstreet Recording.
Drums recorded in January, 2003 at Dug-Out Productions.
Vocals and bass recorded in January and February, 2003 at Studio Fredman.
Mixed at Studio Fredman.
Mastered at The Mastering Room.

Disc 2:
Recorded and mixed from October to December, 2001 at Studio Fredman.
Mastered at the Mastering Room.

Issued in a gatefold sleeve.
"Figure Number Five" is on black vinyl, "Natural Born Chaos" on white vinyl.