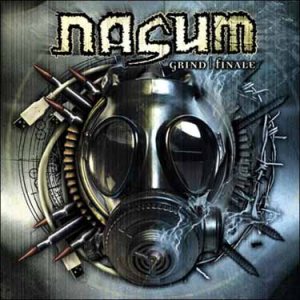 Grind Finale
| | |
| --- | --- |
| Artist | |
| Type | Compilation |
| Released | 2006-01-30 |
| Genres | Grindcore |
| Labels | Relapse Records |
| Length | 2:06:20 |
Reviews : 0
Comments : 0
Total votes : 0
Rating : -
Have : 0
Want : 0
Added by

Refresh
Title
Length
Rating
Votes
Disc 1
1.

Blind World

1:18
-
0
2.

Think

1:20
-
0
3.

Scarecrows

1:36
-
0
4.

No Time To Waste

0:42
-
0
5.

Total Destruction

0:27
-
0
6.

Between The Walls

1:50
-
0
7.

Left In A Dream

0:24
-
0
8.

Uneventful Occupation

0:58
-
0
9.

Reasons?

0:18
-
0
10.

Disforest

0:10
-
0
11.

Self Vilification

0:35
-
0
12.

Red Tape Suckers

0:04
-
0
13.

Re-create The System

0:27
-
0
14.

Rens

0:04
-
0
15.

Hurt

0:24
-
0
16.

Corpse Flesh Genitals

0:58
-
0
17.

Sawder

0:47
-
0
18.

A Look At Society

0:44
-
0
19.

Fucking Murder!

0:43
-
0
20.

Black Visions (Scarecrows II)

1:00
-
0
21.

Escape

0:17
-
0
22.

See The Shit (With Your Own Eyes)

0:47
-
0
23.

Restrained From The Truth

0:31
-
0
24.

No Chance

0:57
-
0
25.

My Fear

0:37
-
0
26.

Fur

1:02
-
0
27.

A Game Played By Society

0:28
-
0
28.

It's All About The Information

0:20
-
0
29.

Smile When You're Sead

0:32
-
0
30.

Blindfolded (By The Media)

0:22
-
0
31.

Erased

0:20
-
0
32.

Warfuck

0:12
-
0
33.

No Chance (Extended Noise-Remix Version)

1:51
-
0
34.

Cut to Fit

0:44
-
0
35.

Forced Opinion

0:37
-
0
36.

Domedagen

0:43
-
0
37.

Left In A Dream

0:23
-
0
38.

Distortion & Disinformation

1:23
-
0
39.

Stalemate (Napalm Death Cover)

0:58
-
0
40.

Bag

0:46
-
0
41.

Revolution

0:37
-
0
42.

What's "Life"?

0:35
-
0
43.

Think

1:12
-
0
44.

Verklighetsflykt

0:19
-
0
45.

Face Obliteration

0:58
-
0
46.

Enough!

1:03
-
0
47.

Dom Styr Vara Liv (Mob 47 Cover)

1:01
-
0
48.

Industrislaven

0:25
-
0
49.

Löpandebandsprincipen

0:28
-
0
50.

Cut to Fit

0:45
-
0
51.

Fantasibilder

0:52
-
0
52.

Distortion & Disinformation

1:24
-
0
53.

Brinn

0:51
-
0
54.

Krigets skörd

1:09
-
0
55.

Mer Rens

0:17
-
0
56.

Ditt öde

0:26
-
0
57.

Ingenting Att Ha!

0:17
-
0
58.

Revolution

0:35
-
0
59.

Den mörka tiden

0:39
-
0
60.

Forcefed Opinion

0:37
-
0
61.

Domedagen

0:37
-
0
62.

Dolt Under Ytan

0:22
-
0
63.

I Helvetet

0:33
-
0
64.

Skithus

0:37
-
0
65.

Söndermald

1:35
-
0
66.

Revolution II

0:37
-
0
67.

World in Turmoil

0:13
-
0
68.

The Final Confrontation (Scarecrows III)

0:44
-
0
69.

The Dream

0:54
-
0
70.

Zombie Society

0:33
-
0
71.

Sheer Horror

0:50
-
0
72.

Awake

0:25
-
0
73.

En värld utan hopp

0:35
-
0
74.

End

0:18
-
0
75.

As Time Goes By...

0:22
-
0
76.

Our Revolution

0:50
-
0
77.

Masqureade

0:26
-
0
78.

Ripped

0:48
-
0
79.

Rage

0:19
-
0
80.

Law & Order?

0:30
-
0
81.

Rise

0:44
-
0
82.

Killed By Your Greed

0:42
-
0
83.

Silent Sanguinary Soil

1:48
-
0
84.

Evacuate The Earth

1:04
-
0
85.

The Black Illusions

0:11
-
0
86.

Disgrace

0:47
-
0
87.

No Paradise For The Damned

0:32
-
0
88.

A Change In Your Mind

0:26
-
0
89.

Dreamland

1:00
-
0
90.

Last

0:42
-
0
Disc 2
1.

Dis Sucks

0:38
-
0
2.

The Leak

0:19
-
0
3.

Eviscerated (By The Fiend)

0:58
-
0
4.

Shambler

0:26
-
0
5.

Lack Of Ammunition

0:23
-
0
6.

The Machines

0:27
-
0
7.

Låt inte asen styra ditt liv

0:56
-
0
8.

Going Nowhere

0:55
-
0
9.

Generation Ex

0:26
-
0
10.

The Soil Bleeds Black

0:42
-
0
11.

Hail The Chaos!

1:00
-
0
12.

Fuck The System

0:31
-
0
13.

The Spiral Goes Down

1:00
-
0
14.

Shortcut To Extinction

0:20
-
0
15.

Vows

0:31
-
0
16.

Hate Division

0:59
-
0
17.

Visions Of War (Discharge Cover)

0:59
-
0
18.

Bullshit Tradition (Drop Dead Cover)

0:29
-
0
19.

Device (S.O.B. Cover)

1:36
-
0
20.

The Real (Refused Cover)

2:18
-
0
21.

Rio de San Atlanta, Manitoba (Propagandhi Cover)

0:33
-
0
22.

...And You Were Blind To What Lay Beyond The Horizon

0:45
-
0
23.

Stolen Pride

0:55
-
0
24.

Silent

1:07
-
0
25.

Losing Faith

0:35
-
0
26.

I Decline!

0:25
-
0
27.

Naive Ignorant Fucks!

0:11
-
0
28.

Obstacle

0:20
-
0
29.

The Political Structure Is Not What It Seems...*

0:11
-
0
30.

A Bloodbath Displayed

0:46
-
0
31.

God-Slave America

1:34
-
0
32.

Supernova

0:52
-
0
33.

Shafted

0:35
-
0
34.

S.O.C.I.E.T.Y. (Hall Of The Dead)

0:28
-
0
35.

Tools Of The Trade (Carcass Cover)

2:58
-
0
36.

Fear

1:09
-
0
37.

Krossa

1:21
-
0
38.

In Praise Of Folly

1:27
-
0
39.

Peace?

0:54
-
0
40.

Falska Tankar

1:22
-
0
41.

Godmorgon, Idiotj?el

1:16
-
0
42.

Understand: You Are Deluded

1:06
-
0
43.

Fear Of The China Syndrome

1:21
-
0
44.

Suicide

0:58
-
0
45.

X Marks The Spot

2:14
-
0
46.

The Flames Of The Truth

2:07
-
0
47.

Sticks And Stones

0:36
-
0
48.

Dead Mirror

1:22
-
0
49.

Helvete

1:00
-
0
50.

A Civil Critique

1:58
-
0
51.

Damned Nation

0:58
-
0
52.

A Dead Generation

1:07
-
0
53.

Divine Intervention

0:47
-
0
54.

Fury

2:26
-
0
55.

The Unfathomable Situation

2:19
-
0
56.

Unchallenged Hate (Napalm Death Cover)

2:03
-
0
57.

DLTD

0:38
-
0
58.

Gravar

0:25
-
0
59.

Ingenting

0:55
-
0
60.

Until The Board Breaks

1:31
-
0
61.

Downwards

0:53
-
0
62.

Stealth Politics

0:46
-
0
Additional notes
Also released on 4-LP by Unrest Rec. (licensed from Relapse Rec.) with a 24-page booklet and poster.

CD 1:
01-06: Blind World (Split w/ Agathocles)
07-15: Really Fast Vol. 9 (Compilation)
16: Previously unreleased
17-24: Smile When You're Dead (Split w/ Psycho)
25-32: Grindwork (Compilation)
33: Previously unreleased
34-47: Domedagen (Demo)
48-66: Industrislaven (EP)
67-82: World In Turmoil (EP)
83-90: The Black Illusions (Split w/ Abstain)

CD 2:
01-16: Regressive Hostility (Compilation)
17: In Defense Of Our Future - A Tribute to Discharge (Compilation)
18-21: Bonus EP with "Inhale/Exhale"
22-25: The Nasum/Warhate Campaign (Split)
26-29: Previously unreleased
30: The Bloodbath Is Coming (Compilation)
31-34: Unreleased outtakes from the "Human 2.0" session
35: Requiems Of Revulsion - A Tribute to Carcass (Compilation)
36-40: Split w/ Asterisk
41-45: Split w/ Skitsystem
46-48: Polar Grinder (Compilation)
49: Japanese bonus track on "Helvete"
50-56: Unreleased outtakes from the "Helvete" session
57-58: Japanese bonus tracks on "Shift"
59-62: Unreleased outtakes from the "Shift" session

CD 2 - Songs that were used for different releases:
8. Going Nowhere: Contaminated 5.0 (Compilation, 2003)
18. Bullshit Tradition: Relapse Records Sampler Spring 1999
22-25: Bonus Tracks on Human 2.01
22. …And You Were Blind…: Contaminated (Compilation, 1999)

54. Fury: released on the "Large Compilation CD #11" (Suburban Records, 2006)

Songs 26-29 were supposed to be included in a box set with four split-5" EP's with eight bands by a label called Clean Plate Records, which was never released.