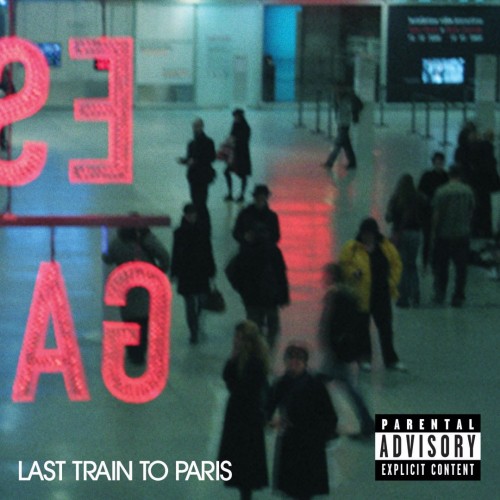 Last Train to Paris
Artist
Type
Studio Full-length [collaboration]
Released

2010-12-14

Genres

Hip Hop

,

House

Labels
Bad Boy, Interscope
Format

CD

, Digital, Vinyl (LP)
Length
64:32
Reviews : 0
Comments : 0
Total votes : 0
Rating : -
Have : 0
Want : 0
Added by

PopRock
Last Train to Paris Information
| | Title | Length | Rating | Votes |
| --- | --- | --- | --- | --- |
| 1. | Intro | 1:33 | - | 0 |
| 2. | Yeah Yeah You Would (feat. Grace Jones) | 3:42 | - | 0 |
| 3. | I Hate That You Love Me | 3:35 | - | 0 |
| 4. | Ass on the Floor (feat. Swizz Beatz) | 4:04 | - | 0 |
| 5. | Looking for Love (feat. Usher) | 4:18 | - | 0 |
| 6. | Someone to Love Me | 3:07 | - | 0 |
| 7. | Hate You Now | 4:09 | - | 0 |
| 8. | Yesterday (feat. Chris Brown) | 4:31 | - | 0 |
| 9. | Shades (feat. Lil Wayne, Justin Timberlake, Bilal and James Fauntleroy) | 5:56 | - | 0 |
| 10. | Angels (feat. The Notorious B.I.G. and Rick Ross) | 5:11 | - | 0 |
| 11. | Your Love (feat. Trey Songz) | 3:53 | - | 0 |
| 12. | Strobe Lights (feat. Lil Wayne) | 3:33 | - | 0 |
| 13. | Hello Good Morning (feat. T.I.) | 4:27 | - | 0 |
| 14. | I Know (feat. Chris Brown, Wiz Khalifa and Sevyn Streeter) | 4:31 | - | 0 |
| 15. | Coming Home (feat. Skylar Grey) | 3:59 | - | 0 |
| 16. | Loving You No More (feat. Drake) | 4:05 | - | 0 |
Sean "Diddy" Combs

:

Main Vocals

Dirty Money (Kalenna Harper, Dawn Richard)

:

Main Vocals
Guest / session musicians
Swizz Beatz

:

Guest Vocals

The Notorious B.I.G.

:

Guest Vocals

Lil Wayne

:

Guest Vocals

Chris Brown

:

Guest Vocals

Drake

:

Guest Vocals

T.I.

:

Guest Vocals

Sevyn

:

Guest Vocals

James Fauntleroy

:

Guest Vocals

Skylar Grey

:

Guest Vocals

Grace Jones

:

Guest Vocals

Wiz Khalifa

:

Guest Vocals

Bilal

:

Guest Vocals

Rick Ross

:

Guest Vocals

Trey Songz

:

Guest Vocals

Justin Timberlake

:

Guest Vocals

Usher

:

Guest Vocals

LaShawn Daniels

:

Background Vocals

Ben Defusco

:

Guitar

Dernst "D.Mile" Emile

:

Guitar, Keyboards

James Fauntleroy

:

Background Vocals

Eric Hudson

:

Keyboards

Justin Hylton-Williams

:

Vocals

Rodney Jerkins

:

Musician

David "J-Maul" Johnson

:

Keyboards

Latoya Duggan

:

Background Vocals

Rico Love

:

Vocals

Steve Styles

:

Bass

Cassie Ventura

:

Background Vocals

Jeffrey "J-Dub" Walker

:

Keyboards

Mario Winans

:

Keyboards
Production staff / artist
The Monsters & The Strangerz

:

Audio Engineer

Brian "Fluff" Allison

:

Mixing Assistant

Arden "Keyz" Altino

:

Producer

Marcella "Ms. Lago" Araica

:

Engineer

Tunji Balogun

:

A&R

Justin Batad

:

Mixing Assistant

Smith Carlson

:

Assistant Engineer

Matt Champlain

:

Assistant Engineer

Capricorn Clark

:

A&R, Creative Director

Sean Combs

:

Producer

Daniel "Skid" Mitchell

:

A&R, Coordinator

Hughes "Yooggie" Felizor

:

A&R, Coordinator

Danja

:

Instrumentation, Producer (tracks 2, 7, 13)

Tony Dawsey

:

Mastering

Deekay

:

Producer

Dernst "D.Mile" Emile

:

Producer (track 9)

Mike "Handz" Donaldson

:

Engineer

Jerry "Wonda" Duplessis

:

Composer, Producer (track 6)

Paul Foley

:

Engineer

Brian "Big Bass" Gardener

:

Mastering

Guy Gerber

:

Instrumentation, Producer (track 1)

Jesus Granica

:

Mixing Assistant

Zach Gurka

:

Engineer

DJ Leon Higgins

:

Cut

Nathaniel Hills

:

Composer

William Smith

:

Composer, Producer (track 1, 4, 5)

Shawn Holiday

:

A&R

Jai Manselle

:

Creative Consultant

Merrell Hollis

:

Make-up

Hollywood Hotsauce

:

Producer (track 14)

Stephanie Hsu

:

Art Direction

Justin Hylton-Williams

:

Composer

James 'J Lack' Lackey

:

Producer (track 5)

Jay-Z

:

Producer (track 15)

Jaycen Joshua

:

Mixing

Rodney Jerkins

:

Associate Executive Producer, Producer (track 3)

Stefan Johnson

:

Engineer

Tyrone Johnson

:

Keyboard Arrangements

Jamal "Polow Da Don" Jones

:

Producer

Sly Jordan

:

Vocal Producer

Nicholson Joseph Jr.

:

Assistant Engineer

Chris Kasych

:

Assistant Engineer, Mixing Assistant

Alex da Kid

:

Producer (track 15)

LaShawn "The Big Shiz" Daniels

:

Vocal Producer

Giancarlo Lino

:

Mixing Assistant

Erik Madrid

:

Mixing Assistant

Henri-David "HD" Magloire

:

Mixing Assistant

Fabian Marasciullo

:

Mixing

Manny Marroquin

:

Mixing

Mylah Morales

:

Make-up

Jared Newcomb

:

Assistant Engineer

Gwendolyn Niles

:

A&R

Chris "Tek" O'Ryan

:

Engineer

Harve "Joe Hooker" Pierre

:

Executive Producer

Derek Roche

:

Stylist

Lucia Rodriguez

:

Make-up

Justin Sampson

:

Assistant Engineer, Mixing Assistant

Edward Sanders

:

Assistant Engineer

Marni Senofonte

:

Stylist

7 Aurelius

:

Producer (track 12)

Travis Shinn

:

Photography

Larry Sims

:

Hair Stylist

Curtis Smith

:

Hair Stylist

Brian Springer

:

Engineer

Steve 'Rock Star' Dickey

:

Engineer, Mixing

Jeremy Stevenson

:

Engineer, Mixing

Swizz Beatz

:

Producer

Dalya Taman

:

Art Direction

Matt Testa

:

A&R

Matthew Testa

:

Engineer, Mixing

Sergio "Sergical" Tsai

:

Engineer, Mixing

Andrew Van Meter

:

Producer

Pat Viala

:

Engineer

Billy Villane

:

Mixing Assistant

Miles Walker

:

Mixing

Nolan Wescott

:

Mixing Assistant

Kevin Wilson

:

Engineer, Mixing Assistant

Mario Winans

:

Executive Producer, Producer (track 16)
Additional notes
Deluxe edition
1. Intro (1:33)
2. Ass on the Floor (feat. Swizz Beatz) (4:04)
3. Yeah Yeah You Would (feat. Grace Jones) (3:42)
4. I Hate That You Love Me (3:35)
5. Someone to Love Me (3:08)
6. Hate You Now (4:09)
7. Your Love (feat. Trey Songz) (3:53)
8. Shades (feat. Justin Timberlake, Bilal, Lil Wayne and James Fauntleroy) (5:56)
9. Angels (feat. The Notorious B.I.G. and Rick Ross) (5:11)
10. Strobe Lights (feat. Lil Wayne) (3:33)
11. Looking for Love (feat. Usher) (4:18)
12. I Know (feat. Chris Brown, Wiz Khalifa and Sevyn) (4:31)
13. Loving You No More (feat. Drake) (4:05)
14. Hello Good Morning (feat. T.I.) (4:27)
15. Last Night (Part 2) (3:52)
16. Yesterday (feat. Chris Brown) (4:31)
17. Change (4:43)
18. Coming Home (feat. Skylar Grey) (3:59)

On Japanese edition, it features the same track listing as the deluxe edition, that was released in other markets, but in a different order.
Both "Clean" and "Explicit" versions of the album were released. On "Clean Versions" track two is called "A** on the Floor".
On the deluxe edition of the album, it features "Last Night (Part 2)" as track 15, and "Change" as track 17. Tracks 14 and 15 from the standard edition, respectively appeared as tracks 12 and 18 on the deluxe edition.
On the iTunes Store digital deluxe edition, it has an additional bonus track, "First Place Loser".