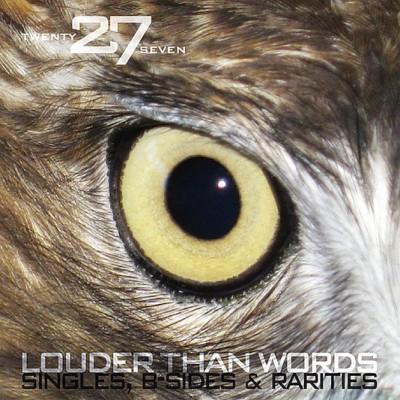 Louder Than Words: Singles, B-Sides & Rarities
Artist
Type
Compilation
Released

2010-09-20

Genres

Indie Rock

,

Indie Pop

Labels
Reproductive Records
Length
44:47
Reviews : 0
Comments : 0
Total votes : 0
Rating : -
Have : 0
Want : 0
Added by

SludgeLeader
Louder Than Words: Singles, B-Sides & Rarities Information
| | Title | Length | Rating | Votes |
| --- | --- | --- | --- | --- |
| 1. | Louder Than Words | 3:29 | - | 0 |
| 2. | Closer to You (Piano Version) | 2:32 | - | 0 |
| 3. | Mono Years | 5:06 | - | 0 |
| 4. | Another Hand | 3:39 | - | 0 |
| 5. | October Knows | 4:08 | - | 0 |
| 6. | Wood Veins | 2:59 | - | 0 |
| 7. | Half Life Third | 2:26 | - | 0 |
| 8. | Angels' Share | 3:57 | - | 0 |
| 9. | Night (Edit) | 4:26 | - | 0 |
| 10. | One More Tomorrow (Edit) | 3:31 | - | 0 |
| 11. | Matera (Remix) | 4:46 | - | 0 |
| 12. | Sport of Kings | 3:48 | - | 0 |
Additional notes
Track 1 "Louder Than Words": appears only on 27's UK release of the album "Holding On For Brighter Days".

Track 2 "Closer To You (piano version)": previously unreleased. The original electronica version appears on "Holding On For Brighter Days".

Track 3 "Mono Years": remix of 27's "A Million Years" (from the album "Holding on For Brighter Days") with the epic masterpiece by UK's Twinzero, "Monolith". "Mono Years" originally appeared as a bonus track on Twin Zero's album "The Tomb To Every Hope".

Tracks 4 and 5 "Another Hand" and "October Knows": released as a 7 inch record. "October Knows" features Dana Colley of the bands Morphine and Twinemen on electricbaritonesaxaphone.

Track 6 "Wood Veins": released on a split 7 inch record along with songs by the bands Gardenbox (from Athens, Greece) and Total Fucking Destruction (from Philadelphia, PA). "Wood Veins" also features the illustrious Dana Colley on his electricbaritonesaxaphone.

Track 7 "Half Life Third": created for a rabbit themed compilation released in Europe only. The band itself has yet to get hold of a copy of the comp! The full band version of the song "Half Life" appears on the album "Holding On For Brighter Days".

Track 8 "Angels' Share": flip side to "Devil's Play", the band's first 7 inch release. The 7 inch is a picture disc featuring a special collection of vintage photos of the band members' grandparents.

Track 9 "Night": another 7 inch vinyl release, backed with the song "Try". "Night" subsequently appeared as a bonus track to the Japanese, European, and Australian releases of 27's EP "Let The Light In".

Track 10 "One More Tomorrow": first released in Spain on the comprehensive 3 disc compilation "Acuarela Songs 2", which features songs by 39 different artists including Lee Rinaldo of Sonic Youth. "One More Tomorrow" also appears on an Austrian 12 inch split record 27 shares with the band "Bug" (from Innsbruck, Tyrol, Austria). The vinyl and artwork is gorgeous!

Track 11 "Matera": remixed and remastered for this album. The song originally appeared on the Relapse Records/Crowd Control compilation "Funeral Songs". The majority of the lyrics of the song are in Italian. This is the second song ever recorded by 27.

Track 12 "Sport Of Kings": previously unreleased. This is the first song ever recorded by 27.