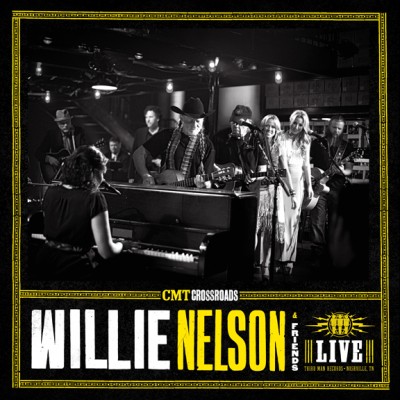 CMT Crossroads: Live at Third Man Records
Reviews : 0
Comments : 0
Total votes : 0
Rating : -
Have : 0
Want : 0
Added by

SludgeLeader
CMT Crossroads: Live at Third Man Records Information
| | Title | Length | Rating | Votes |
| --- | --- | --- | --- | --- |
| 1. | Roll Me Up and Smoke Me When I Die | 4:53 | - | 0 |
| 2. | Angel Flying Too Close to the Ground | 4:30 | - | 0 |
| 3. | Blue Eyes Crying in the Rain | 3:29 | - | 0 |
| 4. | Funny How Time Slips Away | 4:15 | - | 0 |
| 5. | I Gotta Get Drunk | 3:30 | - | 0 |
| 6. | Sail Away | 5:26 | - | 0 |
| 7. | Long May You Run | 5:29 | - | 0 |
| 8. | Far Away Places | 5:30 | - | 0 |
| 9. | Whiskey River | 3:48 | - | 0 |
| 10. | A Song for You | 2:34 | - | 0 |
| 11. | Heartbreak Hotel | 3:49 | - | 0 |
| 12. | Red Headed Stranger | 3:42 | - | 0 |
Guest / session musicians
Ashley Monroe

:

Vocals (tracks 2, 3 & 9)

Sheryl Crow

:

Vocals (tracks 8 & 9)

Jack White

:

Vocals, Acoustic Guitar (track 12)

Jamey Johnson

:

Vocals, Acoustic Guitar (tracks 9)

Neil Young

:

Vocals, Acoustic Guitar, Harmonica (tracks 6, 7 & 9)

Leon Russell

:

Vocals, Piano (tracks 10 & 11)

Norah Jones

:

Vocals, Piano (tracks 4, 5 & 9)

Phil Madeira

:

Acoustic Guitar

Tom Petersson

:

Tic Tac Bass

Dominic Davis

:

Upright Bass, Electric Bass

Marco Giovino

:

Drums

Lillie Mae Rische

:

Fiddle

Mickey Raphael

:

Harmonica

Mike Lynch

:

Organ, Clarinet

Fats Kaplin

:

Pedal Steel Guitar

Cory Younts

:

Piano
Production staff / artist
Bill Flanagan

:

Producer

John Hamlin

:

Producer

Kathryn Russ

:

Producer

Margaret Comeaux

:

Producer

Mark Rothbaum

:

Producer

Tom Forrest

:

Producer

Tom Davis

:

Audio Producer

Dominic Davis

:

Producer, Musical Director

Vance Powell

:

Recording Engineer

Eddie Spear

:

Assistant Recording Engineer

Mindy Watts

:

Assistant Recording Engineer

Reid Shippen

:

Mixing Engineer

Leland Elliot

:

Assistant Mixing Engineer

Lowell Reynolds

:

Assistant Mixing Engineer

Paul Cossette

:

Assistant Mixing Engineer

Stan Crocker

:

Lighting Director

Joe Askins

:

Film Editor

Jim Craig

:

Line Producer

Sophie Muller

:

Film Director

Julian Baker

:

Design

Jo McCaughey

:

Photography
Additional notes
From the inside jacket:
Recorded Live At Third Man Records In Nashville, TN On April 18th, 2013
Third Man Record proudly hosted country music legend Willie Nelson's 80th birthday within the walls of its Nashville compound. On April 18th Willie performed a special show with a lineup of incredible guest musicians, among them real life legacy artists, but also importantly, some hand-picked sidemen from the house of Third Man. This special performance was Filmed and broadcast as part of CMT's prestigious Crossroads series. Behind the Scenes, tape was rolling for the historic show (as is Third Man's Way) and every song, broadcast or not, was captured on beautiful, warm-sounding analog tape by our crack team of engineers. It was, in many respects, a perfect evening.

Mastering/Pressing Information taken from runouts.
Tracks 1, 5, 6 & 11 were not part of the CMT broadcast and are released here for the first time
songwriting for track 7 is mistakenly credited to Mark Selby, but was actually written by Neil Young
songwriting for track 10 is mistakenly credited to Townes Van Zandt, but was actually written by Leon Russell

Includes 2-sided 12"x24" fold-out poster, silver foil "THE VAULT" sticker, and punch-out cardboard "Electro Audiograph Enhancer" paper model kit of a Tesla Tower.
Willie Nelson Discography