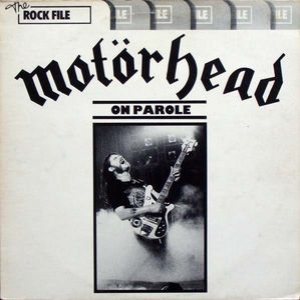 On Parole
| | |
| --- | --- |
| Artist | |
| Type | Studio Full-length |
| Released | 1979-12-08 |
| Genres | Heavy Metal |
| Labels | Motörhead, EMI Records |
Reviews : 0
Comments : 0
Total votes : 0
Rating : -
Added by

LORDOSOLIVAIS
| | Title | Length | Rating | Votes |
| --- | --- | --- | --- | --- |
| 1. | Motorhead 2:57 | | - | 0 |
| 2. | On Parole 5:38 | | - | 0 |
| 3. | Vibrator 2:53 | | - | 0 |
| 4. | Iron Horse / Born To Lose 5:17 | | - | 0 |
| 5. | City Kids 3:43 | | - | 0 |
| 6. | Fools 2:32 | | - | 0 |
| 7. | The Watcher 4:50 | | - | 0 |
| 8. | Leaving Here 2:56 | | - | 0 |
| 9. | Lost Johnny 3:31 | | - | 0 |
Lemmy (Ian Kilmister)

:

Bass, Lead Vocals

Larry Wallis

:

Guitar, Backing Vocals, Lead Vocals ("Vibrator", "Fools")

Phil "Philthy Animal" Taylor

:

Drums

Lucas Fox

:

Drums On "Lost Johnny"
Additional notes
Originally released on December 8, 1979, this grouping assembles all variations of the "On Parole" album as well as its re-releases and subsequent remastered versions (some also contain bonus tracks or feature alternate covers). Bootlegged versions are also grouped here.

In fact this was recorded in September 1975, so technically this is the band's first album. It was supposed to be released in 1976, but the label refused to release it and it got shelved. The album was eventually released in 1979 to cash in on the band's success.

Motörhead themselves have said that their 1977 [url=http://www.discogs.com/Motörhead-Motörhead/master/38356]self-titled album[/url] is their first official release. They used to deny that "On Parole" was their debut album. Due to the record company's initial refusal to release this album, when a reconfigured Motörhead (featuring Eddie Clarke on guitar) were given studio time by Chiswick Records in 1977, they chose to re-record the album again its entirety (only "Fools" and "Leaving Here" weren't re-recorded) leading to their self-titled release.