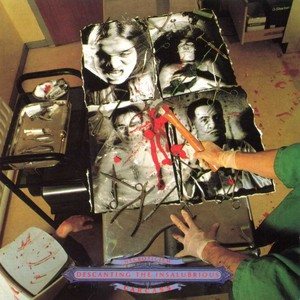 Necroticism: Descanting the Insalubrios
| | |
| --- | --- |
| Artist | |
| Type | Studio Full-length |
| Released | 1991-10-30 |
| Genres | Death Metal |
| Labels | Earache, Relativity Records |
| Length | 1:00:59 |
| Ranked | #28 for 1991 , #1,588 all-time |
Necroticism: Descanting the Insalubrios Information
| | Title | Length | Rating | Votes |
| --- | --- | --- | --- | --- |
| 1. | Inpropagation | 7:07 | 75 | 1 |
| 2. | Corporal Jigsore Quandary | 5:48 | 90 | 1 |
| 3. | Symposium of Sickness | 6:56 | 75 | 1 |
| 4. | Pedigree Butchery | 5:17 | 80 | 1 |
| 5. | Incarnated Solvent Abuse | 5:00 | 85 | 1 |
| 6. | Carneous Cacoffiny | 6:43 | 70 | 1 |
| 7. | Lavaging Expectorate of Lysergide Composition | 4:03 | 75 | 1 |
| 8. | Forensic Clinicism / The Sanguine Article | 7:11 | 75 | 1 |
Jeff Walker

:

Bass, Vocals

Ken Owen

:

Drums
Michael Amott

:

Guitars, Vocals (additional)

Bill Steer

:

Guitars, Vocals
Production staff / artist
Martin Nesbitt

:

Layout

Nimbus

:

Mastering

Jeff Walker

:

Lyrics, Layout

Ian Tilton

:

Photography

Dave Buchanan

:

Engineering

Ian "Skinny" McFarlane

:

Engineering

Keith Hartley

:

Engineering

Colin Richardson

:

Producer, Mixing

John Paul

:

Remastering
Additional notes
CD - MOSH 42CD

Recorded at Amazon Studios, Simonswood.
Mixed by Carcass.
Music videos were made for "Incarnated Solvent Abuse" and "Corporal Jigsore Quandary".

The 1995 re-issue contains three tracks from the Tools of the Trade EP:
9. Tools of the Trade (03:05)
10. Pyosisified (03:09)
11. Hepatic Tissue Fermentation II (06:36)
Re-issue of remastered issued in 2004. Includes Corporal Jigsore Quandary and Incarnated Solvent Abuse promo videos in Quicktime format.
Earache records Re-issued the album in 2008 as a dual disc in a digipak with on the audio side the same bonus tracks as the 1995 Re-issue and on the DVD side a 25-minute interview with as a bonus an interview from 1992.
Necroticism: Descanting the Insalubrios Reviews
Reviewer :

Eagles
(

70

/

100

)
Carcass는 Napalm Death에서 활동하고 있던 기타리스트 Bill Steer에 의해 조직된 영국출신의 밴드이다. Necroticism: Descanting The Insalubrios 앨범은 흉폭한 Grindcore 음악을 들려주던 Carcass가 짜임새있는 구성과 멜로디를 도입하기 시작한 앨범으로 일반인들은 알기 어려운 난해한 의학용어들이 가사에 등장해 컬트적인 마이너 취향의 매니아성향에 부합된다. 파괴와 지적인 구성이 공존하는 데쓰메틀계의 명반으로, 향후 Arch Enemy를 조직해 최고의 전성기를 맞게 되는 Michael Amott을 영입하여 완성시킨 앨범이다.

Best Track : Corporal Jigsore Quandray
Necroticism: Descanting the Insalubrios Comments

dugas
(90/100)
카르카스가 아못을 영입해 이번엔 깔끔한 데스 메탈을 만들었다. 아쉬운 점이 있다면 1.2.8,9.10번 트랙을 제외하면 매력있는 트랙이 없다는 것